Salmon in a Ring-Shaped River - Part Two
---
Judy Buckley
Judy Buckley was not really obsessed with details when speaking of her deceased husband. Nevertheless, I had the impression she really took me to heart during the ten days that I spent in Los Angeles during July 1991 for research on a planned Swiss documentary project.
At her West Hollywood home, Judy showed me pictures of Tim from her archive, and told me that after sixteen years she still had regrets that she did not pick him up at the airport that day as she usually did. She also told me that her hair literally turned grey overnight.
The only possibility for her to get the [artist royalties for the Warner Brother's] catalog of Tim Buckley's music would be to completely pay off all the debts. She said that there were various stream of consciousness writings held by Tim's estate and also a letter of condolence of from Jacques Brel.
On Saturday, July 20 1991, Judy invited me for dinner at a friend's house in an apartment on the beach of Santa Monica. While standing on the balcony, I looked out at the romantic evening sun on the opposite side of the bay. Judy pointed to the house in which Tim had died on July 29, 1975 by an accidental overdose of heroin and alcohol.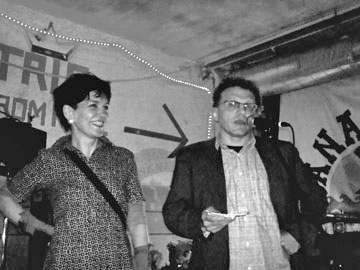 Veit and Maria Gasche - 'the woman of my dreams'
At the end of the evening, her third husband gave me a lift; a witty and refreshing Welshman, Llew Llewellyn. I told him about my parent's house, and impressed him by mentioning that my father took LSD in 1970, listened to Captain Beefheart and founded a liberal art school with my mother.
Judy's 28-year-old son Taylor had intended to drive me through Los Angeles and to introduce me to his half-brother Jeff who was in town at the time, but unfortunately, I did not succeed in making any real dialog between Taylor and myself. Although I was conscious of the complexities of a patchwork family, it did not mean that I didn't make any mistakes.
I visited Judy five times that week, and at the end she gave me a signed Tim Buckley picture - which is printed in this booklet - and gave me some life counseling. When I complained about the unsteady character of my ex-wife, who left me in 1987 for a man in Amsterdam, taking our two-year-old child Orlando with her, she said - and she was totally right - that there were some lessons waiting for me and how important it was to give enough space in a relationship.
Back in Zurich after a Saturday afternoon in bed with jetlag, I pulled myself together to go to an art performance at the Rote Fabrik and I met the woman of my dreams, Maria Gasche, who had come from Basel. Completely euphoric and alcoholized I overdid it with the flirt and it took almost a year until we finally became a couple in July 1992.
Full of anticipation, I drew up a twenty-page presentation, which should have helped us to raise the money for the film - about $150,000. Finally in June 1992, when the money and time for the practical realization came, my friends Andrea and Franz Hauser from Catourne TV were too occupied with their children and business and our communication proved to been unclear.
Additionally, I was starting to have a conflict of loyalty, because Judy distanced herself from Lee, possibly unaware of his superb obituary in June 1977 in Down Beat - published in German in Rocksession in November 1985.
In 2002, she did not give him the permission to cite from Tim's lyrics in his beautiful book of memories Blue Melody. It would be easy now to blame the failure of the project on these two reasons, but 50 % of it was my lack of ambition. I was working as an express mail carrier, riding my bike through town no matter what weather was. I was also looking after of my daughter Raffaela for 35% of the time and was working on the estate of my father, so I simply did not have enough energy to commit myself fully to the project.
Fragments were there. The Hausers had recorded a short interview with Herb Cohen and had received the permission to film all the photographic Buckley material from his archive. They also had an intimate conversation with Taylor during a long car drive where he affectionately reflected upon his childhood (1970-75) with his adoptive father Tim.
In June 1992, we filmed an interview with Eugene Chadbourne, who saw Buckley live several times and who had cover versions in his repertoire. In April 1993 came a highlight when Mothers of Invention drummer Jimmy Carl Black came to Zurich to perform with Chadbourne as a duo.
Before the concert started, we filmed an interview with two prominent quotations. Black is considered the discoverer of Tim Buckley, the one who connected him with Herb Cohen. In 1965, he worked in a guitar shop in LA and insulted Buckley who was trying out different guitars: "Put that damned guitar back, unless you wanna buy it! "
In 1975, he was on tour with Beefheart when the news of Buckley's death arrived. "That was the only time he saw Herb Cohen crying…"
In July 1993 the Grandmothers played in Berne, I had a thrilling backstage discussion with Bunk Garner, an original musician on the Starsailor album, and inventor of the wordplay 'Bim Tuckley' mentioned 1972 on the first Geronimo Black Album. In June 1994, I took over the Rec Rec Shop after a five-year break, but that meant that I definitely had no more time for other projects.